Publisher's description
Excerpt
Distinctions
Resources
Reviews
Publisher's site
Buy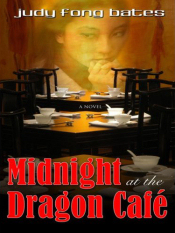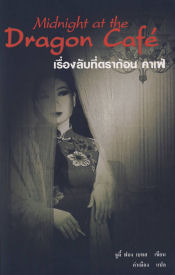 Midnight at the Dragon Café
Judy on the book's background
The first time I travelled from Toronto to Vancouver  I went with friends in a red Ford Cortina. In 1970 I  was still a university student and since arriving from China as a five-year-old, I had never left southern Ontario except for an elementary school trip to Ottawa.
During that long ago car trip I was inspired by the immensity of this country, its beauty and varied landscape. Yet there was one constant that made an impression on me then and stays with me today. Almost without fail, every small town we drove through had a local Chinese restaurant, and I knew, much like my family, the people who ran these restaurants would be separated from the community by language and culture, that their lives would be lonely, especially the older generation, and that work and home were melded into one, unchanging and monotonous.  I remember thinking of my own father who came to Canada in 1914 before the First World War, and spent his life toiling away in isolated communities like Timmins, Trois Rivières and Pembroke; I thought of his endurance and deep commitment to family.
What struck me the most, however, was that despite the ubiquitousness of these small Chinese businesses in towns across Canada, they, and their owners, were and still are largely invisible to the local population. And as I thought about writing this novel, it occurred to me that this seemed mirrored in Canada's literature. When I picture Alice Munro's Jubilee, or Margaret Laurence's Manawaka, I can see the Chinese restaurant. I know it's there, even though it may not be mentioned and I can picture the people who ran it. With only a few exceptions, they have been as invisible in literature as they have been in life.
In my writing I hope to lift this cloak of invisibility, if only a little, to give a glimpse to the rest of Canada of the lives upstairs from the restaurant, the laundry, the fruit market, to reveal the deep and complex emotions that exist behind the calm monotony of their daily routines. And on a personal note, I hope my writing, in some small way, is a tribute not just to my parents but to all those parents who came to Canada from a faraway land and toiled in obscurity to give their children brighter futures. I want them to be remembered.
Publisher's description
Set in the 1960s, Judy Fong Bates's much-talked-about debut novel is the story of a young girl, the daughter of a small Ontario town's solitary Chinese family, whose life is changed over the course of one summer when she learns the burden of secrets. Through Su-Jen's eyes, the hard life behind the scenes at the Dragon Café unfolds. As Su-Jen's father works continually for a better future, her mother, a beautiful but embittered woman, settles uneasily into their new life. Su-Jen feels the weight of her mother's unhappiness as Su-Jen's life takes her outside the restaurant and far from the customs of the traditional past. When Su-Jen's half-brother arrives, smouldering under the responsibilities he must bear as the dutiful Chinese son, he forms an alliance with Su-Jen's mother, one that will have devastating consequences. Written in spare, intimate prose, Midnight at the Dragon Café is a vivid portrait of a childhood divided by two cultures and touched by unfulfilled longings and unspoken secrets.
Read an excerpt
I have kept only three possessions from my childhood. Each one is a book. The first is a coil-bound sketch pad with a cover made of heavy cardboard, a muted olive green. The pages are filled with drawings – of trees and flowers, of animals and soft nudes, but also of fantastic creatures, some beautiful, some hideous, entwined and growing out of one another, out of eyes, bellies, tongues, mouths. As a child I found the drawings magical, yet they unsettled me, pulling me into a world I did not understand. When I look at them now, many years later, they disturb me in a different way; I am left feeling hollow and haunted.
The other two books are from China, handwritten with red cloth covers, bound with red string. One book is thick with pages of line drawings of Buddha-shaped faces, dotted with moles. A mole in a certain place on a cheek might be lucky, my mother once told me, but in the same place on the other cheek could spell a life of tragedy and pain. In the rows of faces, the noses, eyes, lips, and ears are drawn in different shapes. Long, fleshy earlobes mean longevity and wealth; thin lips mean poverty. Whenever Chinese visitors came to our restaurant, I would catch my mother secretly studying their faces. Once, there was a Chinese man who came through our town and had supper with us. He kept trying to engage my mother in conversation, but she took an instant dislike to him. Afterwards she said, "Syah how, sei gnun, that's what he is. A serpent head with dung-filled eyes." His narrow eyes were shaped in an evil way, she told me, a bad person, not to be trusted. Later we found out the man was a notorious gambler and womanizer in Chinatown in Toronto. Sometimes her face readings were more direct. "That man, he has ears that are too small and thin. No matter how hard he works, he won't amount to anything." She once said to me about my grown-up brother, "The shape of his face and nose are strong. He will eventually be rich, but he will always have to work hard. His mouth is too full. He wants so much, yet nothing in the first half of his life will be easy."
The second book from China, though it looks similar on the outside, holds other secrets. It holds the story of my life, my destiny. Before leaving Hong Kong, my mother took me to a fortune teller to have my I Ching read and my fate revealed. I have no memory of what the fortune teller looked like, only of watching his long slender hands lay out narrow sticks of different lengths. The smell of incense had filled the air. My mother paid a handsome price for the book. Each page was filled with black hand-brushed characters, on the front was a single column of elegant black calligraphy. The characters held such power and mystery, all the more so because I could not read them. When I touch the pages, I can almost sense the heat of the fortune teller's hand moving down the rice paper with the bamboo-handle brush in his fingers. As a child, I often found myself with the book upside down, turning the pages backwards; I had to remind myself to open it left to right, opposite to the way I opened books at school.
Whenever I asked my mother what was written inside, she seemed to hesitate. Her unwillingness made me uneasy. She told me that I would live in more than one country. She told me that until the age of thirteen, water would be my danger sign, that I was never to trust it. I would beg her for greater details about my future, but she would only shake her head and say there was nothing else in the book that mattered.
Distinctions
Translated into Chinese by NANKAI UNIVERSITY PRESS, 2013
The ONE BOOK COMMUNITY READ for the city of Toronto, 2011
The ORILLIA'S BIG READ selection for Orillia, Ontario, 2008
The ONE COMMUNITY READS selection for Portland, Oregon, February, 2007
An ALA NOTABLE BOOK, American Library Association, 2005
ALEX Award winner, American Library Association, 2005
Shortlisted for inaugural EVERGREEN award, Ontario Library Association, 2005
Resources
Reviews
"A heartbreaking but muted love story… Deeply satisfying: a lovely sensuality pervades in spite of the harshness of the world Bates portrays so eloquently."
KIRKUS REVIEWS (starred review)
Full review
"The mounting suspense of family secrets makes this first novel a breathless read, even as the simple, beautiful words make you want to stop and read the sentences over and over again. "
BOOKLIST (starred review)
Full review
"[Like China Dog] "Midnight at the Dragon Cafe" is another page-turner…"
CLEVELAND PLAIN DEALER
Full review
"In this deeply affecting debut novel by the author of the short story collection China Dog...Bates conveys with pathos and generosity the anger, disappointment, vulnerability and pride of people struggling to balance duty and passion."
PUBLISHERS WEEKLY
Full review
"A terrific page-turner of a first novel.…"
QUILL & QUIRE
Full review
"The quiet voice Bates uses perfectly conveys the young girl's confusion as she struggles to love her family…"
THE WASHINGTON POST
Full review
"A fascinating and finely crafted work of fiction.… Compelling.… Absorbing and alluring …."
WINNIPEG FREE PRESS
"In Midnight at the Dragon Café, Judy Fong Bates has created a novel that does what the very best fiction can do – take us into a world we could not have otherwise entered, put us among people we could not otherwise know. As quintessentially Canadian as Alice Munro, and equally delightful to read."
SHYAM SELVADURAI
"Wonderfully written and acutely observed, Midnight at the Dragon Café is a haunting novel.… As skilled and original as it is moving."
LONDON FREE PRESS
"A unique and imaginative drama.… Bates's writing is smooth and simple, but powerful."
CALGARY HERALD
"Judy Fong Bates is an accomplished storyteller.… The tragic events that form the plot of this novel are in no way restricted to the Chinese experience. Betrayal, human frailty, lost hopes, and shattered dreams belong to all of us.… The quintessential good read."
EDMONTON JOURNAL
"Judy Fong Bates slips us past the front counter into the inner life of the Dragon Café, as if we lived there too.…. Her attention to physical detail is matched by compassionate understanding, which gives real weight to the telling of the submerged, drowning passion hidden in this household."
NATIONAL POST
"[Judy Fong Bates] has transmuted her experience into fiction that says something essential and makes wonderful reading.… [She] has been compared with Alice Munro because of her controlled prose and the currents of feeling that seethe beneath the surface of her fictional Ontario town."
VANCOUVER SUN
"An elegant first novel."
CHATELAINE
"A work that often reads like the best finely crafted memoir.… If you think of the first-person narratives of Who Has Seen the Wind and To Kill a Mockingbird on the fiction side, and the memoirs Angela's Ashes and The Way of a Boy, you'll have something of an idea of the goals for character growth Fong Bates has set for herself."
THE GLOBE AND MAIL
"An impressive debut."
CALGARY SUN
Buy Midnight at the Dragon Café